Want to recieve the same updates our agents do?
Our FREE service provides you with your home's current market value.
Downtown Saint Paul MN Real Estate
The borders around downtown St. Paul are made up of University Avenue to the north, Marion Street to the west and Interstate 94 to the east. The Mississippi River runs along the southern edge of the downtown area, offering beautiful views from many homes and biking and running trails connecting it to many other St. Paul and Minneapolis neighborhoods. Read More
Downtown St Paul MN Information
Click On Map To Enlarge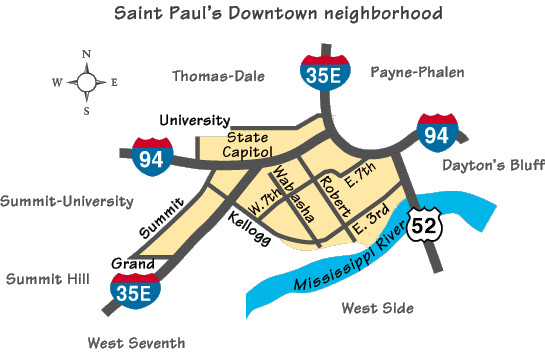 Downtown St. Paul, also known as Lowertown, is changing rapidly into a residential neighborhood.The population of downtown St. Paul increased to 7,000 residents in 2005 and city planners hope to add 4,000 more residents by 2007. The downtown area has the added convenience of a skyway system (enclosed off-ground walkways between buildings) to make winter walking convenient.Real estate in downtown Saint Paul MN offers residents everything from theater to a visit to the weekend farmer's market and all within walking distance!
With the Capitol being within a few blocks, downtown St. Paul is an ideal location for government workers. Many state offices are also located in the area. Downtown Minneapolis features more industry than downtown St. Paul. This has improved the affordability of housing in St. Paul.
As residential property increases, so do the recreational activities in the neighborhood. Besides its proximity to the Mississippi River, downtown St. Paul offers green spaces including: Mears Park, Kellogg Park, Rice Park and Harriet Island. Rice Park hosts St. Paul Winter Carnival events, which include an outdoor ice rink open to the public during the Carnival. Harriet Island is becoming a popular location for outdoor music and festivals. The Taste of Minnesota is held each summer on the Island.
Downtown St. Paul offers the sightseer many attractions. The Science Museum of Minnesota, Minnesota History Museum and the Children's Museum are all located downtown. Downtown also boasts the Ordway and the historical Landmark Center. The Minnesota Wild professional hockey team makes the Xcel Energy Center in downtown St. Paul their home.
A day downtown offers great dining at some of the Twin Cities' best restaurants. The St. Paul Grill and Kincaid's offer some of the cities' best fine dining. Fhima and Pazzaluna Urban Italian Restaurant are trendy night spots for dining or cocktails.
Downtown St. Paul MN Homes & Condos
There are great options for condos and homes in Downtown Saint Paul MN. Some of the new homes include large lofts, condos, and studios in remodeled historic buildings and warehouses. Near the river, new luxury condominiums (condos) and apartments are available. Homes downtown are in a variety of price ranges. Smaller condominiums downtown allow a homebuyer to make an investment in a lower priced property and large lofts come with luxury price tags. In 2009, the median sales price of a single family homes, townhouses, or condos in the Downtown neighborhood of Saint Paul was $177,900.
Discover great homes, condos in Downtown Saint Paul MN and contact the Realtors at Barker & Hedges with any questions you have about the market and their superior agent services.