Want to recieve the same updates our agents do?
Our FREE service provides you with your home's current market value.
Hamline-Midway St. Paul MN Real Estate
Real Estate in Hamline-Midway Saint Paul MN offers a central location with affordable homes. Over the last eight years, the Hamline-Midway neighborhood has gained popularity due to its location and prices. This active urban neighborhood is a mix of residential and commercial properties. The Midway neighborhood is home to 75,000 people and employs 50,000. Read more about the real estate opportunities in Hamline-Midway.
Hamline-Midway MN Information
Click On Map To Enlarge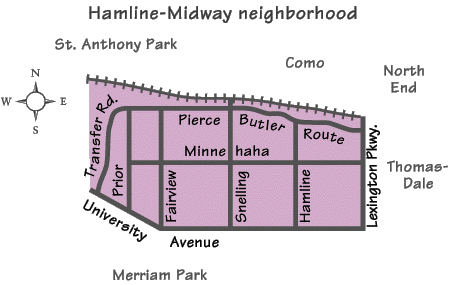 The northern border of the Hamline-Midway neighborhood is Pierce Butler Route and the southern border is University Avenue. The western border is Cleveland Avenue and the St. Anthony neighborhood. Lexington Parkway is to the east. Hamline-Midway got its name from one of its major commercial streets, University Avenue. University originally connected St. Paul, Minnesota with Minneapolis, Minnesota, and this neighborhood was the midway point.
Today, the neighborhood's main commercial districts are along Snelling and University Avenue. Residents enjoy being within bussing and walking distance of shopping and dining. University Avenue offers large grocers and department stores. Snelling Avenue provides St. Paul with a number of small shops and quality ethnic restaurants. The Black Sea offers Turkish cuisine, Fasika serves Ethiopian and Shilla is a Korean restaurant. There are a number of neighborhood parks.
Hamline-Midway is also home of the Minnesota State Fair. The State Fair grounds are along Snelling Avenue. The fair runs each year, from late August to Labor Day. The State Fair grounds are also used throughout the year for car shows, horse shows, antique sales, and technology fairs.
The neighborhood offers a variety of public and private schools. Hamline University is at the center of Hamline-Midway. Hamline-U relocated from Red Wing to St. Paul in 1880. The university brought residential construction to the area. Between 1887 and 1891, several Victorian homes were built for university faculty near Hamline. Many of the homes still stand. A number of bungalows and two-story homes were built in the area from 1900-1920.
Hamline - Midway Homes, Townhomes and Condos
There are many option for homes and condos in Hamline-Midway MN with the majority of the residential property in the neighborhood built before 1940. Some of the homes and condos near Hamline were constructed in the 1960s. In 2009, the median sales price of a single family homes, townhouses, or condos in the Hamline - Midway neighborhoods of Saint Paul was $159,400.
Discover great homes and condos in Hamline-Midway Saint Paul MN and contact the Realtors at Barker & Hedges with any questions you have about the market and their superior agent services.