Want to recieve the same updates our agents do?
Our FREE service provides you with your home's current market value.
Highland Park St. Paul MN Real Estate
Highland Park is a popular St. Paul neighborhood in the southwest corner of the city. Originally settled in 1848, Highland Park MN real estate features a variety of home styles, including its signature brick and stucco homes of substantial proportions with river views, built in the early twentieth century. The homes are close to great schools, recreation and shopping within walking distance. There are an exceptionally diverse assortment of home styles to choose from in this neighborhood, making a Highland Park lifestyle available to just about any homebuyer. Read More
Highland Park MN Information
Click On Map To Enlarge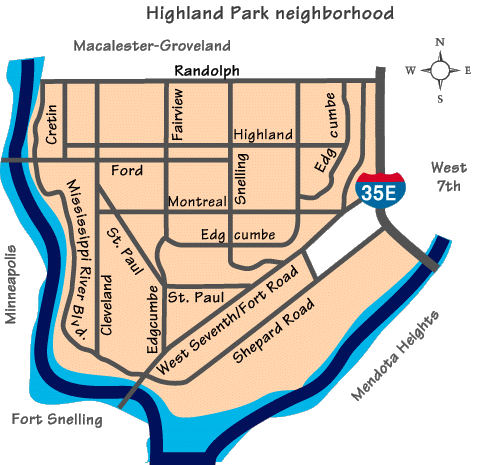 Highland Park Saint Paul MN real estate is bordered by Randolph Avenue to the north and West 7th Street and Minnesota Highway 5 to the south, Interstate 35E creates the eastern border, and to the west is the scenic Mississippi River. Minnesota Interstates 94 and 35E are easily accessible, as is downtown Minneapolis.
The extensive and colorful history of the neighborhood has created a variety of home styles and there are many Highland Park MN homes & condos to choose from. There are original farm houses and architect-designed homes still standing from the early 1900's, and Tudor-style homes built in the 1930's. The 1940's housing boom consisted of bungalows and Cape Cod style construction, and the 1950's brought ramblers to the neighborhood. Today, homes in Highland Park typically sell for between $175,000 and over 2 million dollars!
Why Highland Park Real Estate?
Schools
Highland Park is well known for its academic institutions at all levels. It boasts several neighborhood elementary and high schools at public and private levels, including Cretin-Durham Hall and St. Paul Academy, and the highly recognized Highland Park Elementary and Horace Mann Elementary. The College of St. Catherine stands at the corner of Randolph and Cleveland Avenues and offers undergraduate and graduate programs. St. Catherine's O'Shaughnessy Auditorium features a wide variety of performance art throughout the year.
Downtown Appeal
The neighborhood is pedestrian-friendly, featuring the Highland Village Shopping Center. The Village includes a Lund's grocery store, a Barnes & Noble book store, R.F. Moeller Jewelers, the Highland Movie Theater, Punch Neapolitan Pizza, the Highland Grill, and a wide variety of other restaurants and coffee shops.
Outdoor Quality
The Highland Golf Course, Highland Pool, Hillcrest Community Center, and several public tennis courts offer many recreation opportunities. Highland Park's proximity to the Mississippi River provides lots of green space, too. There are several biking, running and walking trails along Mississippi River Boulevard. Outdoor enthusiasts also enjoy the wooded trails and the picnic areas of Hidden Falls Park and Crosby Farm Regional Park.
Highland Park History
When Highland Park was settled in 1848, the neighborhood was mostly comprised of Fort Snelling property. In 1854, approximately 5,000 acres were sold at $1.25 per acre to create farmland. Then during the early 1900s, Edgecumbe Road was developed and became the center of fashionable living in the area.
Ford Motor Company opened their Twin Cities Assembly Plant in Highland Park in 1925, originally assembling Model Ts. The remaining farmland was divided to provide more room for Ford and its employees. The Intercity Bridge, known today as the Ford Bridge, was built in 1927 to connect Minneapolis and St. Paul and create an easy commute for Ford employees. It is still in use today and is listed on the National Register of Historic Places.
The neighborhood also boasts another piece of history; the Highland Water Tower was built in 1928 and serves as a landmark on the highest point in the neighborhood. It was named to the National Register for Historic Places in 1986.
Highland Park saw a population boom in the decades after World War II, with many new houses built and expanded shopping and dining choices.
Highland Park MN Homes, Townhomes & Condos
Highland Park has many single- and multi-family dwellings within its boarders. The neighborhood has a mix of well-maintained older housing. Highland Park homes come in a variety of architectural styles. There are farm houses and custom homes from the early 1900s, Tudor-style homes built in the 1930s, and bungalows and Cape Cods from a 1940s housing boom. In 2009, the median sales price of a single family homes, townhouses, or condos in the Highland Park neighborhood of Saint Paul was $222,025.
Discover great Highland Park Saint Paul MN Homes & Condos and contact the Realtors at Barker & Hedges with any questions you have about the market and their superior agent services.