Want to recieve the same updates our agents do?
Our FREE service provides you with your home's current market value.
Mac Groveland St Paul MN Real Estate
Macalester Groveland Saint Paul MN real estate is in a bustling and energetic neighborhood. It is bordered on the north by historic Summit Avenue. To the south are Randolph Avenue and Highland Park. The Mississippi River makes up the west border and Ayd Mill Road the east. Lively Grand Avenue runs east and west through Mac-Groveland. Real estate in Macalester-Groveland is definitely worth exploring. Read More
Macalester-Groveland MN Information
Click On Map To Enlarge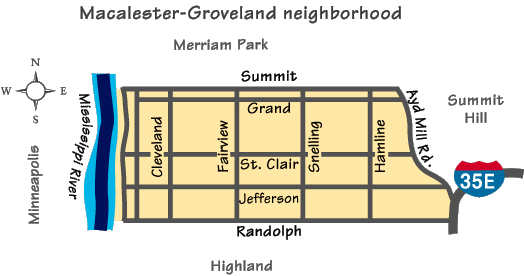 Today there are many options for homes, town homes & condos in Macalester - Groveland MN. But this neighborhood is founded on a history that dates back to 1880. The Macalester College Board of Trustees bought farmland outside of St. Paul and divided it into houses and the campus of Macalester College. It evolved into a farm, then commuter suburb and now is an active St. Paul neighborhood.
Mac-Groveland boasts several institutions of higher education. Macalester College was founded in 1880. The University of St. Thomas was founded in 1885 by Archbishop John Ireland. Today, St. Thomas offers 46 undergraduate and 39 graduate programs. The St. Paul Seminary is also located in Mac-Groveland.
Many of the neighborhood residents are students, professors and working professionals. Former students are often reluctant to leave the area and become lifelong residents.
There are two public, neighborhood elementary schools in Macalester-Groveland: Randolph Heights Elementary and Groveland Elementary. The neighborhood has numerous private schools, including Saint Paul Academy and the Summit School.
The residents of Mac-Groveland stay busy at many of the neighborhood restaurants and shops. Dining experiences range from the casual atmospheres at the Groveland Tap and St. Clair Broiler to fine dining at Heartland or Carmelo's. There are also numerous neighborhood coffee shops. Shopping ranges from eclectic gift shops to specialty stores. The neighborhood also features the Grandview Movie Theater.
Macalaster-Groveland MN Homes, Town Homes & Condos
Mac-Groveland offers a wide variety of housing options. Many of the neighborhood homes were built before 1940. Larger homes in the neighborhood feature Tudor, Prairie Style and Colonial Revival architecture. Much of the neighborhood was built in the 1920's and 30's, making Arts and Crafts bungalows prevalent throughout the neighborhood. Several new construction and fully remodeled condominiums are available throughout the neighborhood, too. In 2009, the median sales price of a single family homes, townhouses, or condos in the Macalaster-Groveland neighborhood of Saint Paul was $243,000.
Discover great Macalester - Groveland Saint Paul MN Homes, Town Homes, & Condos and contact the Realtors at Barker & Hedges with any questions you have about the market and their superior agent services.