Want to recieve the same updates our agents do?
Our FREE service provides you with your home's current market value.
Merriam Park / Lexington - Hamline St Paul MN Real Estate
Real estate in Merriam Park offers superior location. Merriam Park is located between downtown St. Paul and downtown Minneapolis in west-central Saint Paul. It is bordered on the north by University Avenue and Interstate 94. The southern border is historic Summit Avenue. The eastern border is Lexington Parkway and the west is the Mississippi River. City planning for Merriam Park also includes the Lexington-Hamline and Town and Country neighborhoods. Merriam Park MN real estate is certainly worth exploring. Read More
Merriam Park MN Information
Click On Map To Enlarge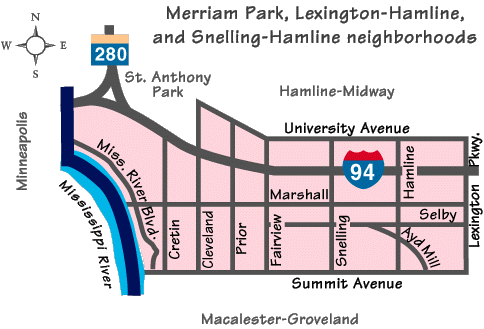 There are many options for homes & condos in Merriam Park MN, but the older character homes are what give this area a unique draw. This neighborhood is one of St. Paul's oldest. The first occupants of Merriam Park were innkeepers who catered to the Red River traders.
In the 1880's Colonel John Merriam owned much of the land in present day Merriam Park, and envisioned a St. Paul commuter suburb for working professionals. He felt its convenient location and access to the city trolley system made it ideal.
Merriam built a luxurious home and sold lots to people with specific housing expectations. There were requirements that a home must be built on the lot at a value of $1,500, which was a large amount of money at the time, and must be completed within one year. Merriam's plan worked and the streets were set up on a grid. The trolley system could take individuals to either downtown in 12 minutes for the cost of 7 ½ cents. Today's Merriam Park real estate prices are a little more than $1,500! They currently range from $175,000 to over 1 million dollars!
The neighborhood's proximity to the Mississippi River offers scenic riverfront homes and urban wilderness along the biking and walking trails. The Town and Country Club is the oldest country club in Minnesota and has made its home near the river in Merriam Park since 1890.
Today, community members keep themselves busy at the Merriam Park Community Center and Merriam Park Library. The neighborhood also features coffee shops, bakeries, ethnic restaurants and specialty stores. Most of the commercial activity can be found on Marshall, Selby, University and Snelling Avenues. The neighborhood includes the University of St. Thomas and Concordia College, as well as Central High School.
Merriam Park MN Homes, Townhomes & Condos
Due to its foundations, Merriam Park boasts some of the oldest homes in Saint Paul. Many of the homes built in the 1880's feature Queen Anne architecture. The neighborhood offers a variety of other historic architectural styles, too, including turn of the century Tudors, Gothic, Italianate, Colonial and Dutch Revivals, American Four Square and Prairie Style homes. In 2009, the median sales price of a single family homes, townhouses, or condos in the Merriam Park neighborhood of Saint Paul was $243,000.
Discover Merriam Park Saint Paul MN homes & condos and contact the Realtors at Barker & Hedges with any questions you have about the market and their superior agent services.