Want to recieve the same updates our agents do?
Our FREE service provides you with your home's current market value.
Homes For Sale in North End - South Como
The North End/South Como neighborhood in St. Paul has real estate listings that are conveniently located just north of downtown. To the north of the neighborhood is Larpenteur Avenue and the busy city of Roseville. The southern border of North End/South Como is Maryland Avenue and the Burlington Northern Railroad tracks. Dale Street borders to the west and Interstate 35E borders to the east.

The neighborhood is mostly residential with some light industry scattered throughout — this neighborhood is full of life and definitely worth exploring more. The homes here vary in architectural style, but many homes here are Bungalow style or Victorian style.

The neighborhood has many walking, running and biking trails, the best of which are along the beautiful Wheelock Parkway. The parkway stays busy with residents and acts as a lifeline between Lake Phalen and Lake Como. The parkway also is the starting point to the storied Gateway Bike Trail — this path runs 18.3 miles from St. Paul all the way to Pine Point County Park in Stillwater. Read More
North End - South Como Real Estate Information
Click On Map To Enlarge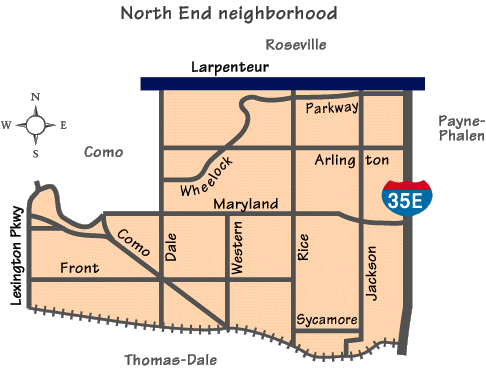 The neighborhood was settled by Swedish, Austrian and German immigrants in the late 19th century. In the early 20th century a large number of Romanians began to migrate to the area. These new additions were able to find employment along Rice Street and Jackson Street at railroad shops and other thriving businesses. The main commercial corridors in this neighborhood are the same today as they were when the neighborhood was founded.
North End/South Como has Arlington High School, Washington Middle School and North End Elementary serving the area. The nearby Como Park neighborhood also has some of the schools within its borders serving the North End/South Como as well.
North End - South Como Homes
In North End/South Como, there are several great options for homes, townhomes, condos and lofts. Many of the first homes in this neighborhood were constructed with the sturdy midwestern style. Most homes were built after World War II, but throughout the area there are several bungalows and Victorian homes.

The area has a suburban feel with spacious lots for many of the homes — there are also several large apartment buildings as well as many multi-family homes. Wheelock Parkway traverses the neighborhood east-to-west and the most affluent houses can be found along this strip. The more recent additions to the neighborhood are Colonials, new split-levels, and a few Tudor style homes. Walking along Wheelock Parkway offers residents wonderful views of the downtown St. Paul area.
Discover great North End - South Como Saint Paul homes, town homes, lofts, & condos and contact the Realtors at the Barker Hedges Group with any questions you have about the market and their superior agent services.