Want to recieve the same updates our agents do?
Our FREE service provides you with your home's current market value.
North End - South Como St Paul MN Real Estate
North End/South Como Saint Paul MN real estate boasts a location just north of downtown St. Paul. The district is bordered on the north by Larpenteur Avenue and the city of Roseville. The southern border is along the Burlington Northern Railroad track and Maryland Avenue. The western border is Dale Street and to the east is Interstate 35E. The neighborhood is residential, with some light industry and the real estate in North End/South Como St. Paul is certainly worth exploring. Read More
North End - South Como St Paul MN Information
Click On Map To Enlarge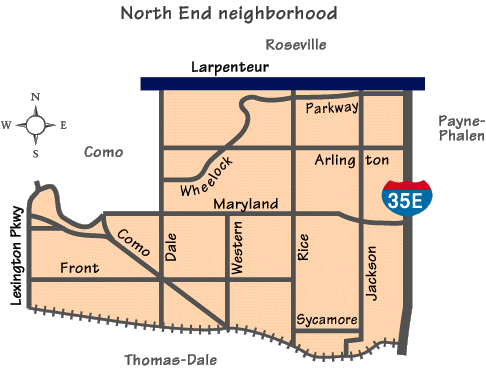 The North End/South Como neighborhood was settled in the 1870's and 80's by German, Austrian and Swedish immigrants. At the turn of the century, a number of Romanians also settled in the area. Newcomers were able to find work along Jackson and Rice Street at railroad shops or other related businesses. These streets still function as the major commercial corridors through the neighborhood.
There are several public schools in the area including: North End Elementary, Washington Middle School and Arlington High School. This area also shares public and private schools with the Como Park neighborhood, due to its close proximity.
Many of the residents of North End/South Como enjoy biking, running and walking along picturesque Wheelock Parkway. The parkway connects Lake Como and Lake Phalen. It also serves as the beginning of the Gateway Bike Trail. The Gateway Trail runs 18.3 miles starting in St. Paul and ending outside of historic Stillwater at Pine Point County Park.
North End - South Como MN Homes, Townhomes & Condos
There are many great options for North End/South Como St. Paul MN homes, town homes, lofts & condos. Many of the early homes in the neighborhood were built with a sturdy Midwestern style. There are a sprinkling of Victorians and bungalows, but most of the homes in the area were built post World War II. The streets have a suburban feel with large lots and the majority of homes being built between 1930 and 1960. There are a number of large apartment buildings in the neighborhoods and several multi-family homes. Wheelock Parkway runs east-to-west through the North End and more affluent homes can be found along the parkway. Newer split-levels, Colonials and a few Tudor Style homes are found there; some homes along Wheelock Parkway offer spectacular views of downtown St. Paul. In 2009, the median sales price of a single family homes, townhouses, or condos in the North End/South Como neighborhood of Saint Paul was $55,000.
Discover great North End - South Como Saint Paul MN homes, town homes, lofts, & condos and contact the Realtors at Barker & Hedges with any questions you have about the market and their superior agent services.