Want to recieve the same updates our agents do?
Our FREE service provides you with your home's current market value.
St. Paul MN Real Estate by Neighborhood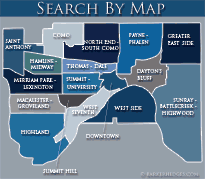 Real estate in St. Paul is as diverse as its 17 individual neighborhoods. From high-rise condos in the Downtown neighborhood to sprawling estates along the Mississippi River, home buyers have nearly unlimited options. Situated just east of Minneapolis with exceptional highway access, St. Paul offers a convenient location and boasts an astounding array of career, leisure, entertainment and cultural opportunities. Read More about St. Paul Real Estate.
Battle Creek & Highwood: Located on the Eastern edge of St. Paul, the Battle Creek and Highwood neighborhoods overlook the Mississippi River and Downtown St. Paul.
Como & Como Park: The Como Park neightborhood is located on the Northwestern side of St. Paul and is home to the Como Zoo (one of two Zoo's in the Twin Cities, the other is the Minnesota Zoo), the Como Golf Course and Como Lake. This recreational area offers something for everyone!
Downtown St. Paul: The Downtown neighborhood offers Urban living, thriving nightlife and plentiful options for Theatre and the Arts. Downtown St. Paul is home to the Xcel Energy Center, also known as home to the Minnesota Wild, Minnesota's professional hockey team.
Greater East Side: Located adjacent to the 3M World Headquarters, this Northeastern neighborhood marks northern edge of St. Paul. Nearby suburban Maplewood offers many shopping and dining options.
Hamline & Midway: This centrally located neighborhood is home to Hamline University and many of St. Paul's commercial and retail establishments.
Highland Park: This Southwestern neighborhood is home to the Ford Motors facility, the College of St. Catherine, and the historic Highland Park Movie Theater. The neighborhood is boardered by the Mississippi River to the West and Historic Fort Snelling to the South.
Dayton's Bluff: Located just Northeast of Downtown St. Paul, this neighborhood boasts panaramic views of St. Paul and the Mississippi River. This neighborhood is home to some of the oldest homes in all of St. Paul.
Payne & Phalen: This Northcentral neighborhood has some great recreational facilities, especially near Lake Phalen on the neighborhood's northeastern edge.
Macalaster & Groveland: Spanning the central corridor from the Mississippi River on the West to I-35E on the East, this neighborhood is home to Macalaster College and the retail and dining center - Grand Avenue.
Merriam Park: This central neighborhood is boardered by Historic Summit Avenue to the south and University Avenue to the north. The Merriam Park neighborhood is home to St. Thomas University and Concordia College as well as Minnesota's oldest Country Club - The Town and Country Club.
North End - South Como: This Northcentral St. Paul neighborhood is boarderd by suburban Roseville to the North, I-35E to the East and Lexington Parkway to the West.