Want to recieve the same updates our agents do?
Our FREE service provides you with your home's current market value.
Summit Hill - Crocus Hill St. Paul MN Real Estate
Real estate in Summit Hill offers an historic neighborhood located in the southwest portion of St. Paul. Summit Avenue creates the northern border, Ayd Mill Road is to the west, and Interstate 35-E forms the southern and eastern borders. The Summit Hill neighborhood also contains the upscale neighborhoods of Crocus Hill and Grand Hill. Summit Hill is pedestrian friendly and filled with beautiful character homes. Summit Hill Saint Paul MN real estate is definitely worth looking into. Read More
Summit Hill - Crocus Hill MN Information
Click On Map To Enlarge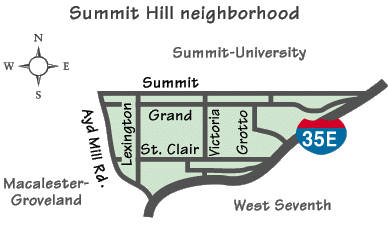 The age and original wealth of the neighborhood allows it to host some of St. Paul's historic sights. Located on Summit Avenue, the Governor's Mansion is on the National Register of Historic Places. The Tudor style mansion was built in 1912 and donated to the state in 1965. James J. Hill, the founder of the Great Northern Railroad, also made Summit Hill his home.When the James J. Hill House was built in 1891, it was the largest home in the Midwest. Both the Governor's Mansion and the James J. Hill House are open for tours on a regular basis.
The Cathedral of St. Paul can also be found on Summit Avenue. It was constructed from 1906 to 1915. The Renaissance style cathedral is large enough to have six chapels, each dedicated to a saint from an ethnicity originally settling in St. Paul: French-Canadian, Italian, Irish, German and Slav (the sixth chapel was for the area's missionaries).
Little construction has taken place along Summit Avenue since 1920. The Great Depression was a difficult time for the homeowners in the Summit Hill area. Many homes were converted into duplexes or apartment buildings. The area saw four decades of decline after the Depression. Fortunately, renovating finely-crafted homes became popular in and after the 1970's. The majority of the homes in the area have been returned to their original state.
Grand Avenue runs east and west through the Summit Hill neighborhood. In 1890, the Twin City Railway Company built an electric street car that traveled Grand Avenue. This brought pedestrian friendly amenities that still stand today. The street is known for its shopping and dining. It is the home of St. Paul's most eclectic restaurants. Tavern on Grand, Suji-Ya and the Barbary Fig are dining hotspots.
Night life ranges from cocktails at Billy's on Grand and dancing at the Wild Onion to a more family-friendly evening at Grand Ole Creamery. Shopping along Grand offers small shops like Runner's Edge or Red Balloon Book Sellers and large retailers like Pottery Barn and J.Crew.
The Summit Hill neighborhood is located near four colleges and offers a variety of private and public school options. Linwood A+ School is a neighborhood public elementary school and St. Luke's Catholic offers kindergarten through eighth grade programs.
Summit Hill MN Homes, Town Homes & Condos
Today there are many options for homes, town homes and condos in Summit Hill MN. Historically, Summit Hill started to establish itself in the 1860's with opulent homes built for wealthy St. Paul residents. Summit Avenue was developed from east to west. The homes built from 1860-1900 offer a variety of classic architecture: Italianate, Georgian Revival, Queen Anne, Colonial Revivals, Tudor, Shingle and Row Houses.Prairie style homes became popular from 1910-1920. In 2009, the median sales price of a single family homes, townhouses, or condos in the Summit Hill - Crocus Hill neighborhoods of Saint Paul was $206,250.
Discover great Summit Hill Saint Paul MN homes, town homes & condos and contact the Realtors at Barker & Hedges with any questions you have about the market and their superior agent services.