Want to recieve the same updates our agents do?
Our FREE service provides you with your home's current market value.
Thomas - Dale St Paul MN Real Estate
Better known as Frogtown, real estate is available in the Thomas Dale neighborhood. There are numerous stories as to where the nickname came from, ranging from the long-gone croaking frogs in the neighborhood to rivalries between early occupants. Frogtown is northwest of downtown St. Paul and the Capitol. The neighborhood is bordered on the south by University Avenue and on the north by the Burlington Northern Railroad. The western edge is Lexington Parkway and the eastern border is Interstate 35E. Real estate in the Thomas Dale neighborhood of Saint Paul MN is certainly worth investigating. Read More
Thomas Dale St. Paul MN Information
Click On Map To Enlarge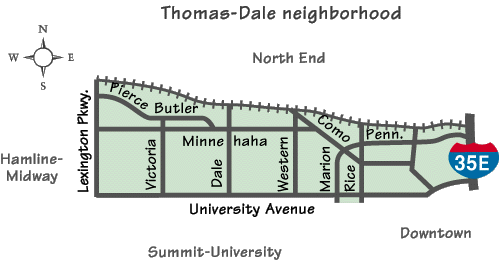 Frogtown is one of St. Paul's most historical neighborhoods. The earliest of these homes were built in the 1860's by Polish, Scandinavians, German, and Irish immigrants. A large number of immigrants worked and built modest wood and brick houses in the area. Many people in the area were employees of the Jackson Street Railroad shops, which provided employment to the residents of Frogtown until the 1970s. One of the most striking buildings in the area is the Church of St. Agnes, built from 1909-1912. The church features a 200 foot high onion-shaped dome.
Thomas Dale St. Paul MN Homes & Condos
Today there are great options for homes and condos in Thomas Dale St. Paul MN. There are some areas of new residential construction in Frogtown. Single and multi-family homes are being built by Habitat for Humanity, Twin Cities Builders Outreach and a variety of other organizations that rehabilitate and replace homes. Half of the property in the neighborhood was built before 1940. There are several two-story Midwestern-squares and ramblers throughout the neighborhood. In 2009, the median sales price of a single family homes, townhouses, or condos in the Thomas Dale neighborhood of Saint Paul was $55,000.
Discover great homes & condos in Thomas Dale Saint Paul MN and contact the Realtors at Barker & Hedges with any questions you have about the market and their superior agent services.