Want to recieve the same updates our agents do?
Our FREE service provides you with your home's current market value.
West 7th - Homecroft St. Paul MN Real Estate
Real estate in West 7th - Homecroft neighborhoods offer a location in the historic heart and soul of St. Paul. West 7th Street is officially named Fort Road because of its history as a Native American and fur trader path. Today, it is located west of downtown Saint Paul. It is bordered on the north and west by Interstate 35E. The southern border is the Mississippi River and to the east is West Kellogg Boulevard. Irvine Park and Uppertown neighborhoods are part of the West 7th corridor. Real estate in West 7th Saint Paul MN is certainly worth exploring. Read More
West 7th - Homecroft St. Paul MN Information
Click On Map To Enlarge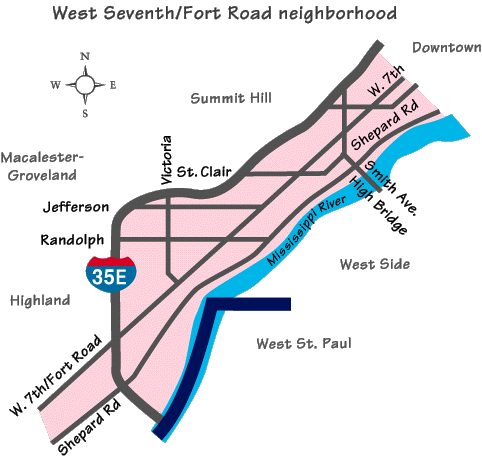 West 7th is very close to Fort Snelling and the original settlers in the area were discharged soldiers and former fur traders. One of Minnesota's most famous settlers, Pierre "Pig's Eye" Parrant, was the first European to make his home on the bluffs of the Mississippi River in this area in 1832. Pig's Eye was a squatter and made his living by selling whiskey to Native Americans and soldiers. The community we know today as St. Paul was called Pig's Eye until 1841 when Father Lucien Galtier urged the name to be changed to Saint Paul.
The West 7th neighborhood continued to be a popular area for immigrant settlement from the 1850's to 1890's. The area had breweries, foundries, factories and railroad shops. Historically, the neighborhood was the center of Irish, German, Italian and Bohemian immigration.
Former Governor Alexander Ramsey's home stands in this area. It is an example of Victorian-era architecture and tours are offered daily. Unfortunately, some of the homes in the area were destroyed by nature or urban development. The Fort Road Federation formed in the 1970's to redevelop the historical value of the neighborhood. The group worked to get Irvine Park named as a Historic District and preserve the area. The West 7th/Fort Road Federation still assists in the rejuvenation of six to eight buildings per year.
West 7th has a lot to offer residents, with several restaurants and pubs in the area. The neighborhood is very close to the Xcel Energy Center, home to the NHL Minnesota Wild team, so there are numerous places to meet before a game or concert. With the neighborhood's ethnic history, a variety of dining and night-life is available. Cosetta's serves excellent pizza and pasta. Mancini's is a St. Paul favorite known for its character and excellent steaks. Irish pub fare can be found at Patrick McGovern's and The Liffey Irish Pub. There are also a variety of eclectic shops and numerous casual and upscale restaurants along West 7th.
The West 7th area shares schools with neighboring Highland Park and Macalester-Groveland. The neighborhood has a variety of public, private and charter school options.
West 7th - Homecroft St. Paul MN Homes & Condos
Today there are great options for homes & condos in West 7th St. Paul MN. There are also a lot of options for character homes in the area. Due to the age of the West 7th district, there is a variety of architecture. The neighborhood features stone houses built before the Civil War, restored red brick rowhouses and Queen Anne Victorians. For those interested in newer construction, several town homes and condominiums have been built along West 7th and the Mississippi River in recent years. In 2009, the median sales price of single family homes, townhouses, or condos in the West 7th - Homecroft neighborhood of Saint Paul was $110,000.
Discover great homes and condos in West 7th - Homecroft Saint Paul MN and contact the Realtors at Barker & Hedges with any questions you have about the market and their superior agent services.