Battle Creek & Highwood St Paul MN Real Estate
The St. Paul neighborhoods of Battle Creek, Highwood and Sunray are located on the southeast side of the city. The neighborhoods' border Minnehaha Avenue to the north. The western borders are Birmingham Street, Hazelwood Street and Warner Road. The southern part of these neighborhoods are fronted by the beautiful Mississippi River and McKnight Road is to the east. Real estate in Battle Creek & Highwood is certainly worth looking into. Read More
Battle Creek-Highwood Real Estate Stats
September 22, 2023
Battle Creek & Highwood MN Information
Click On Map To Enlarge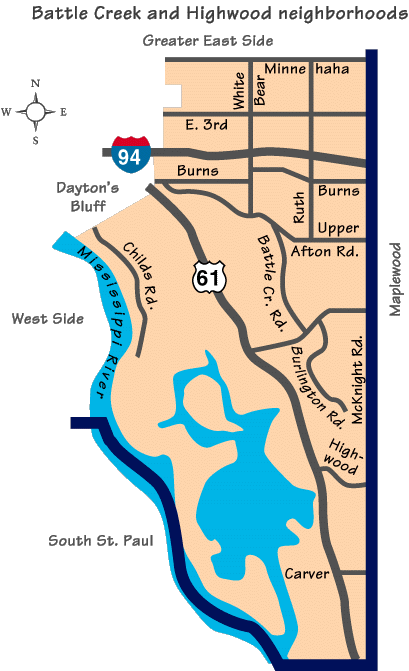 Battle Creek and Highwood both contain a large amount of green space. The parks have plenty of hiking and biking trails, as well as picnic areas. The most popular parks are Pig's Eye Lake and Battle Creek Park.
Employment options are abundant in the Battle Creek & Highwood neighborhoods of Saint Paul. The headquarters for Minnesota's largest employer, 3M, are located at Interstate 94 and McKnight Road. Shopping and fast food dining is prevalent along I-94 and in the Sunray Shopping Center. This makes for easy family living in the area.
Battle Creek - Highwood Homes, Townhomes & Condos
The houses in Battle Creek and Highwood are ample and affordable. Some of the Battle Creek & Highwood MN homes, townhouses and condos offer beautiful views of the Mississippi River. For the most part, many of the houses within St. Paul's Sunray-Battlecreek-Highwood neighborhoods were built during the 1970s or later.
Discover great homes, townhouses and condos in Battle Creek & Highwood Saint Paul MN and contact the Realtors at the Barker Hedges Group with any questions you have about the market and their superior agent services.