5 Tips for Creating Autumn Curb Appeal and Home Staging
Posted by Homes of Minnesota Team on Thursday, September 26, 2013 at 1:54 AM
By Homes of Minnesota Team / September 26, 2013
Comment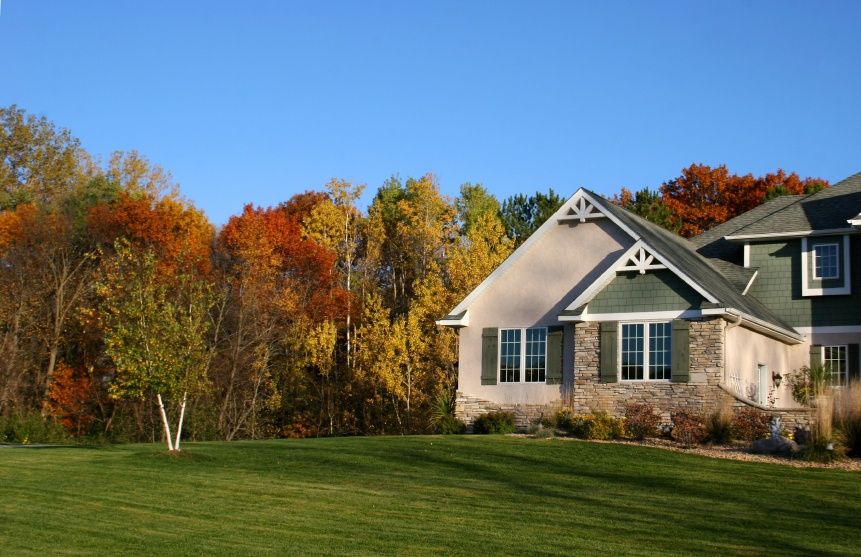 Fall can be a great time of year for selling a home - even in places with four seasons. We think of spring as home selling season, but really homes are moving all the time. People are back from their vacations and the holidays and inclement weather aren't yet here. Now is the time to be buying or selling a home.
Here are five tips for owners to keep in mind when selling a home in autumn.
1. Tidy Up the Yard. You'll be busy keeping the yard clean if your home is on the market in fall. Now is the time to cut away vines that grew in the summer to let more light inside the house and trim back branches to better reveal the exterior of your home. Wash your siding if it has accumulated dirt over the summer. Ensure your gutters debris-free and are draining well. If you get a lot of rain in the fall, have floor mats on hand and spots to place wet shoes and umbrellas. If snow will be falling soon, have the tools on-hand to shovel the sidewalk and de-ice the stairs.
2. Festive Fall Curb Appeal. Get your house into the spirit of the season. Buy potted flowers for the front of the home like marigolds and chrysanthemums. Decorate the outside of your house with a festive fall wreath on the door or traditional pumpkins, gourds and Indian corn on the patio. If Halloween is near, feel free to have a jack-o'-lantern. Keep your holiday display simple, though: Too much and you could distract home buyers and make them less interested in your home.
3. Dust It Up. Your home should be spotless when you put it up for sale on the market. Buff your bathrooms and kitchen until they shine. Thoroughly clean underneath furniture and behind it, in the corners and inside closets. Dust out the fireplace, even if you never use it – you'll probably find some pretty wild dust bunnies in there. Don't forget to scrub the windows. Make sure your furnace is both clean and working properly, with filters changed and any chance of musty smells during a tour eliminated. It's best to discover problems with the furnace like this anyway, before your home buyer makes their purchase contingent on everything passing an inspection.
4. Bring Autumn Indoors. You decorated outside, now it's time to decorate inside. A home stager could help you with the interior, but you could also try to make it look nice yourself. Accessorize with bright red and gold throw pillows. Toss a quilt over the back of the couch. Get an autumn-inspired centerpiece for the dining room table or put a cornucopia on the mantle. Simmer hot apple cider and cinnamon on the stove to make the house smell really good – you can even offer it to potential home buyers after their tours have ended. If you're feeling really ambitious, bake banana bread or pumpkin muffins to give away to people who take tours.
5. Light It Up. The days are getting shorter and the sun is sitting lower on the horizon, resulting in longer shadows and more darkness inside homes. Open up the blinds pull back the curtains on every window. Turn on every light and even add extra lights to dark rooms, such as closets. Lights that can stand on the floor behind furniture or in corners are often a great solution for this. In addition to lighting up the house, kick the furnace up a notch when you expect home buyers. When the weather starts getting cooler, home buyers will want to come into a home that is warm and cozy. If it feels cold, they may not warm up to the positive qualities of your home.
The real estate market tends to slow down in autumn, but it doesn't stop. Clean up your home and give it some festive, seasonal touches. Buyers will want to know more about the cute house with the red maple and pumpkins on the steps.
Planning on selling a home? The Realtors at Homes of Minnesota are ready to help you on your way to a successful sale.