Piece of Minnesota History for Sale
Posted by Matt Barker on Sunday, April 10, 2011 at 1:09 AM
By Matt Barker / April 10, 2011
Comment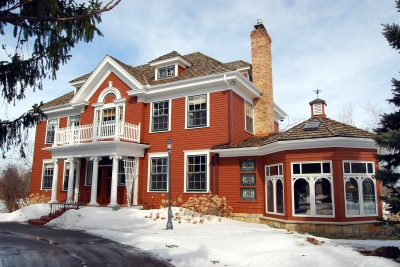 An impressive home that had a role in Minnesota history is for sale in Vasa, MN. The Barker & Hedges Team with Re/Max Results, a leader in the Twin Cities real estate market, is the listing agent for this meticulously restored house that once served as Lutheran Social Services Vasa Children's Home.
The home can be found at 15251 Old Children's Home Road in Vasa, Minnesota. Constructed in 1899, this house was the dormitory for the Vasa Children's Home for 27 years. In 1926, the group moved to a new location, and the property was used for many purposes, included as a grain storage facility for local farmers.
In 1968, the previous owners purchased the Vasa Children's Home, the remaining structures and acreage. They immediately began their work of restoring both soundness and beauty to it. Over a period of eight years, they disassembled deteriorating buildings and integrating many recovered materials into renovations within the home's interior. When the work was finished, the building had been converted into a seven bedroom, three bathroom home with a about 5,000-square-feet of interior space. The home had about 34½ acres of land surrounding it.
In 1974, the newly remodeled home and land were purchased by the current owners. They transformed the charming country home into a magnificent country estate, complete with landscaping, perennial gardens, a pond and an orchard, all behind a security gate and maintenance-free fence. A heated six car garage was built on the land with an attached green house. What was once a bunk house is now a three car garage, which is being used as a painting and potters studio, with a guest apartment on the top level.
For the price of $1,250,000, this home offers a buyer the opportunity to place their own mark on this historic property. Completely updated and restored, a new owner could also just relax and enjoy the fruits of the previous owners' labor. With only a 50 minute drive to St. Paul via Highway 52, the property could be a main residence or would make a great secluded weekend retreat. Found in the center of the Cannon River Valley, the placid setting is sure to bring happiness to whoever purchases this residence.
To learn more about the former Vasa Children's Home or to schedule a showing, contact Barker & Hedges Team, Re/Max Results Realtor Matt Barker at matt@barkerhedges.com, 651-789-5329, or http://www.historicvasachildrenshome.com/.