Saint Paul History Hidden in Plain Sight
Posted by Matt Barker on Thursday, December 9, 2010 at 2:06 AM
By Matt Barker / December 9, 2010
Comment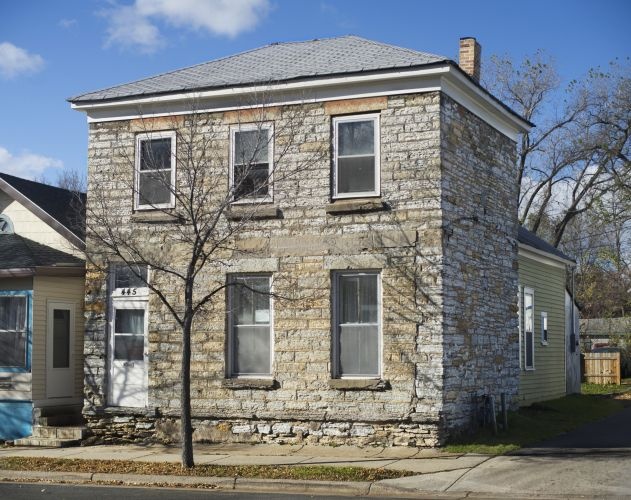 John Yust and Tom Schroeder may have discovered the oldest surviving commercial structure in Saint Paul: An unusual house on N. Smith Avenue in the Uppertown neighborhood. Now they're trying to restore it to its 19th century state.
"I drove past that house every day, and there was just something about it that didn't make sense to me," said Yust, an architect who has worked on many historic preservation projects in the Twin Cities.
For several years, the boxy stone house in Saint Paul with oddly placed doors and windows had fascinated them. Then three years ago the house went vacant and the pair had the chance to truly explore the house's historic and architectural mysteries. They were so intrigued Schroeder bought the house for $60,000 in May 2008.
The pair found that the stone house was built by the same stone mason that built Yust's own stone house a few houses away, a German immigrant named Jacob Amos. Digging on the site resulted in boxes full of treasures, including a dog collar with an 1877 license, women's corsets and an 1898 St. Paul Police Manual, with handwritten notes. But most importantly, they discovered that it had not been built to be a house at all, it had first been a saloon that went under after the financial Panic of 1857.
The stone house was built when the Minnesota territory was bustling with land speculation. Between 1850 to 1857, the territory increased in population from about 6,000 to nearly 150,000. Housing for all those people, though, was in short supply and land prices were beginning to skyrocket. In fact, the piece of land on which the Uppertown house was built was sold four times in 1853 and 1854, increasing in value by 275% during that time.
Yust and Schroeder are in the process of returning the stone house to its pre-Panic look, with extensive gardens and a post-and-beam barn. They also plan to apply for a place on the National Register of Historic Places.
To learn more about saloon owner Charles Fuchs, the stone house project, and the architectural preservationists who are restoring it, see the rest of the Star Tribune article and photos.