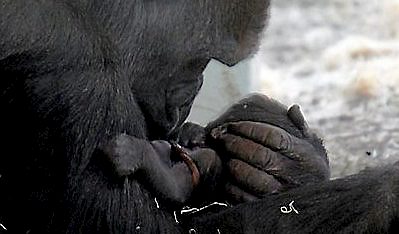 The Como Zoo community is dealing with a devastating loss this week. The zoo lost a baby gorilla less than a week after it was born to its western-lowland gorilla mother, Alice. This was the first birth of a baby animal is the history of the Como Zoo -- but the zoo has been caring for gorillas for 55 years.
The baby was non-responsive and weak this past Sunday morning when zoo officials checked in on the gorilla and resuscitation efforts were fruitless.
Zoo officials suspect the infant was not feeding properly. They were careful to monitor the mother and baby from a distance in an effort to not interfere with the parent-child bonding experience. Alice was very protective of the baby and often turned her back from zoo officials when they tried to observe her caretaking abilities.
"The baby had appeared as if he was doing well through Saturday evening. He had a strong grip and was vocal," according to a statement from the Como Zoo. "Alice was showing positive signs of maternal instinct, had been observed nursing and cradling the baby."
A necropsy will be performed to determine the cause of death.
This sad news comes abrubtly after the amazing news of the gorilla infant's birth.
...