Downtown Saint Paul MN Real Estate
Downtown St. Paul is bordered by University Avenue to the north, Interstate 94 to the east, Marion Street to the west, and best of all, the Mississippi River runs to the southern edge of downtown. There are so many beautiful sights in the downtown area. The neighborhood offers a variety of housing options, entertainment and activities, and running and biking trails that are interconnected to other St. Paul neighborhoods. Read More
Downtown Real Estate Stats
October 1, 2023
Downtown St Paul MN Information
Click On Map To Enlarge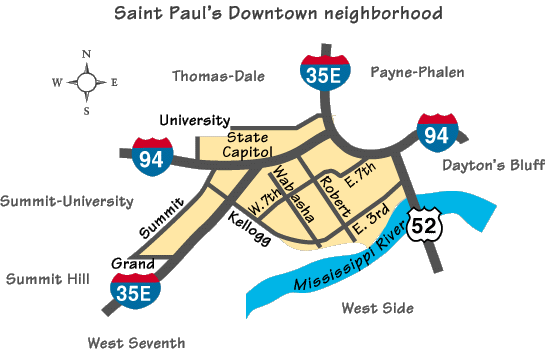 The neighborhood is also known as Lowertown and is quickly changing into a residential area with a growing population. The convenient skyway system has made traveling through the area much easier in the cold winter months. The neighborhood has so many entertainment options within walking distance, from the CHS Field, home of the St. Paul Saints, to the theater, to the nearby farmer's market.
The state Capitol is only a few blocks away, making the housing options in Lowertown great for government workers. Downtown St. Paul isn't nearly as congested as downtown Minneapolis, making the downtown St. Paul area a great dose of urban life with plenty of more affordable housing options. The Mississippi River aside, the Lowertown area has so many wonderful parks that residents love to frequent — Kellogg Park, Mears Park, Rice Park and Harriet Island all have plenty of visitors at all times of the year. Rice Park is home to many Winter Carnival events and during the warmer months all these parks are bustling with life.
Downtown St. Paul offers many other destination spots. The Minnesota History Museum, the Science Museum of Minnesota, the Children's Museum, the Ordway, the Landmark Center and the home of the Minnesota Wild, the Xcel Energy Center, are all located downtown.
A visit downtown gives visitors great dining options at some of the Twin Cities' best restaurants. Kincaid's and the St. Paul Grill feature some of the Twin Cities' best fine dining. Pazzaluna Urban Italian Restaurant and Fhima are happening night stops for dining or cocktails.
Downtown St. Paul MN Homes & Condos

Downtown St. Paul offers both great options for homes and condos. Some of the new housing options include condos, large lofts, and studios in updated historic buildings and warehouses. Near the Mississippi River are brand new luxury condos and apartments that offer an amazing view of the river and upscale living.
Discover great homes, condos in Downtown Saint Paul MN and contact the Realtors at the Barker Hedges Group with any questions you have about the market and their superior agent services.