St. Paul East Side MN Real Estate
Saint Paul's East Side is full of great real estate options for potential buyers seeking a neighborhood to raise a family. Most of the residents in the area are either young families or retirees. The average home in this neighborhood is a mid-sized, moderately priced, single-family dwelling. East Side homes are located near a handful of community centers and the city of Maplewood, which offers all sorts of dining and shopping options. If you are looking for a home near shopping, recreation and good schools, the East Side has it for you.
Greater East Side Real Estate Stats
September 22, 2023
St. Paul Eastside MN Information
Click On Map To Enlarge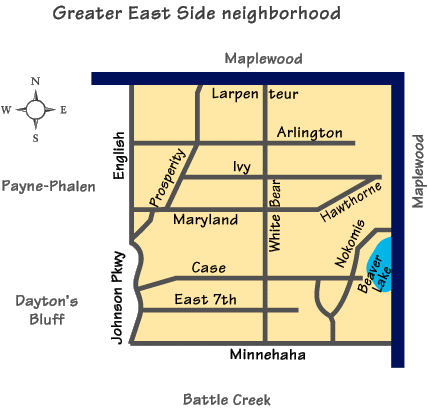 Three neighborhoods make up the Greater East Side of St. Paul: Hillcrest, Hayden Heights, and Hazel Park make up this northeast St. Paul neighborhood. Larpenteur Avenue borders the East Side to the north, Johnson Parkway and Hazelwood Street to the west, McKnight Road to the east and Minnehaha Avenue to the south.
The neighborhood has many gathering places, like the Hazel Park Community Center and the Hayden Heights Community Center. These recreational spots offer playgrounds and tennis courts open to the public. Beaver Lake has running and biking paths, as well as dog walking paths.
The East Side neighborhood borders the suburb of Maplewood. The closeness to this commercial hub makes shopping and dining in Maplewood convenient. The 3M headquarters, Minnesota's largest employer are located in Maplewood.
Greater East Side MN Homes & Condos
There are a variety of home and condo options on St. Paul Eastside. Most of the homes in the neighborhood were constructed after 1940. Most of the homes are small to mid-sized ramblers and Cape Cods. The area has many young trees and mid-century homes give the neighborhood a suburban feel. Several new construction homes have popped up along Beaver Lake, which is in close proximity to McKnight Road.
Discover great homes and condos in Saint Paul Eastside MN and contact the Realtors at the Barker Hedges Group with any questions you have about the market and their superior agent services.