Hamline-Midway St. Paul MN Real Estate
The Hamline-Midway neighborhood in Saint Paul has a real estate market that offers a convenient location with many affordable homes. Over the years, this neighborhood has attracted more residents and commercial opportunities because of its prime location and great prices. This busy urban neighborhood is a combination of commercial and residential properties. Over 75,000 residents call the Midway neighborhood home and 50,000 people work in the area.
Read more about the real estate opportunities in Hamline-Midway.
Hamline-Midway Real Estate Stats
June 1, 2023
Hamline-Midway MN Information
Click On Map To Enlarge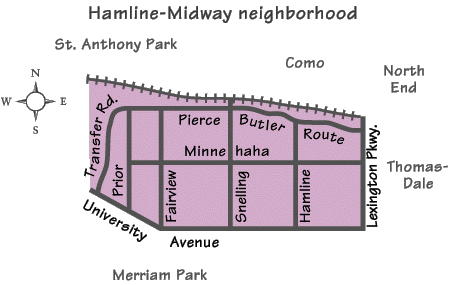 The Hamline-Midway neighborhood is bordered to the north by Pierce Butler Route and University Avenue borders to the south. Cleveland Avenue and the St. Anthony neighborhood border to the west. To the east is Lexington Parkway.
The name Hamline-Midway comes from one of its major commercial streets, University Avenue. University Avenue is one of the main connections between St. Paul and Minneapolis, and this neighborhood served as the midway point.
The bustling commercial districts are still along Snelling and University Avenue today. Residents are privy to the nearby shopping and dining as well as the light rail which connects the Twin Cities. In St. Paul, Snelling Avenue features a number of small shops and quality ethnic restaurants. The Black Sea has delicious Turkish cuisine, Fasika offers wonderful Ethiopian options and Shilla is a well-loved local Korean restaurant.
The area also has many neighborhood parks that have a variety of recreational options, one of which is the Minnesota State Fair. The fairgrounds are situated along Snelling Avenue. Late in August, the fair kicks off and runs until Labor Day. The fairgrounds are also used throughout the year for horse shows, car shows, antique sales and technology fairs, and much more.
The Hamline-Midway neighborhood is home to a variety of public and private schools. Hamline University is located at the center of the neighborhood, relocating from Red Wing to St. Paul in 1880. The university purchased residential construction in the neighborhood. Just before the 1900's, several Victorian house were constructed for Hamline University faculty near campus. Many of the homes are still there today.
Hamline - Midway Homes, Townhomes and Condos
The Hamline-Midway neighborhood in St. Paul has several options for homes and condos — most of the homes in the area were built before 1940, with some of the residential property near Hamline constructed in the 1960s.
Discover great homes and condos in Hamline-Midway Saint Paul MN and contact the Realtors at the Barker Hedges Group with any questions you have about the market and their superior agent services.