Minneapolis MN Real Estate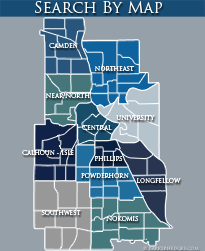 Minneapolis is the largest city in Minnesota and offers diverse housing options in 81 vibrant neighborhoods. From Victorian gems of the 1800's to modern condos and lofts with river or skyline views, there is literally something for everyone. Located in the heart of the Twin Cities Metro Area, Minneapolis real estate is convenient to major employers, Universities, and recreational and cultural experiences. Read More about Minneapolis Real Estate.
Minneapolis Communities
Minneapolis Neighborhoods
Calhoun - Isles Neighborhoods
Calhoun - Isles - Uptown: This neighborhood is the epicenter of nightlife and recreation in Minneapolis. Some of the finest homes in Minneapolis comprise the lakeshores of Lake Calhoun and Lake of the Isles. The Uptown Area is known for its eclectic shops and unique restaurants. Don't miss the Uptown Art Fair - it's a can't miss Summer Tradition!
Camden - The Camden Neighborhood is located just northwest of Downtown Minneapolis and its location and freeway access make it a great area to consider when purchasing a home. Be sure to check out Theodore Wirth Park, one of the best City Parks around!
Central - Downtown: This is Urban living at its finest. Downtown Minneapolis is a thriving Urban community with Mississippi Riverfront Condos, Light rail transit, and countless varieties of Arts and Entertainment.
Longfellow - This community is bordered by the Mississippi River to the East and the University of Minnesota Campus to the North. Take in the Mississippi Riverfront scenery on miles of walking trails and explore the Neighborhoods that range from post-war bungalows to Riverfront Estates.
Phillips - Located just South of Downtown Minneapolis, this Community is not only a great location, but a vibrant center for shopping and dining. Be sure to visit the Sears Building, a recent renovation of one of Minneapolis' historic landmarks.
Powderhorn - Sandwiched between the Phillips and Nokomis Neighborhoods, the Powderhorn community offers a great location with primarily Single-Family residences. Nearby Powderhorn Park is one of the City's largest neighborhood parks.
Near North - Near North gets it's name because it is located just North of Downtown and provides excellent access to all that Downtown has to offer.
Nokomis - Located Southeast of Downtown, this Community offers great access to both Downtown Minneapolis and Downtown St. Paul. Lake Nokomis and Minnehaha Creek provide bountiful options for recreation and the Minneapolis - St. Paul International Airport is a short ride away.
Northeast - This Community is wrapped by the Mississippi Riverfront with portions that have an Urban feel and others offering a small town experience. From post-war housing to contemporary industrial lofts, the Northeast Community has it all.
Southwest - This Southern Minneapolis Community offers nearly unlimited opportunities for recreation with Lake Harriet and Minnehaha Creek. Housing styles vary from post-war bungalows to architectural masterpieces and everything in between.
University - It's proximity to the University of Minnesota gives this Community a College Campus atmosphere. Much of this area is on or near the Mississippi Riverfront, offering wonderful views. Portions of this Community are dominated by Students and Faculty, but there are plenty of quiet out of the way places if that is your preference.