Payne - Phalen St. Paul MN Real Estate
Payne - Phalen is a St. Paul neighborhood that carries historical significance — it has the oldest home in the entire city located in the Railroad Island area. The northern border of the neighborhood is Larpenteur Avenue with the south border being Grove Street. The east is Johnson Parkway and the western border is Interstate 35E. Payne - Phalen has earned popularity with potential home buyers because of the redevelopment of the neighborhood and the affordability of the homes. The real estate in the Payne - Phalen neighborhood is definitely worth exploring.
Payne-Phalen Real Estate Stats
September 22, 2023
Payne - Phalen MN Information
Click On Map To Enlarge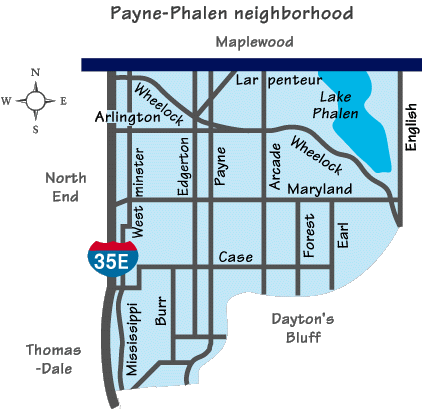 There are many fantastic options for homes and condos in this neighborhood with a very interesting history. Within Payne - Phalen, there is an area called Railroad Island — it is the spot where many of the oldest homes in the entire city are located. Before the Civil War, Payne - Phalen was the area where many affluent residents chose to build their homes. As immigrants found employment in the area, the neighborhood slowly began to have many more permanent, affordable homes.
The neighborhood has both regular public elementary schools and public magnet schools. The area is served by Phalen Lake Elementary and the Farnsworth Aerospace Magnet School.
Payne - Phalen has several great recreational facilities. There is a public golf course, beaches with swimming areas nearby and even cross-country ski trails for the winter months. There is a three mile long running and bike trail that circles Lake Phalen. There are also many excellent places to eat and drink, both casual and fine dining within the neighborhood limits.
Payne - Phalen MN Homes & Condos

The architecture of the neighborhood is consistently simple and quaint compared to other St. Paul neighborhoods — but this area has a huge selling point in the affordability of the homes there. There are a handful of Colonials, bungalows and Victorians near Lake Phalen.
Discover great homes & condos in Payne-Phalen Saint Paul MN and contact the Realtors at the Barker Hedges Group with any questions you have about the market and their superior agent services.