St Anthony Saint Paul Minnesota Real Estate
The St. Anthony neighborhood offers residents a gorgeous, urban neighborhood with a small-town feel. The neighborhood is bordered to the north by Larpenteur Avenue and the busy city of Roseville. To the southern border is Interstate 94, the western side is bordered by Minneapolis and the University of Minnesota's St. Paul campus borders to the east. This lively neighborhood is certainly worth exploring.
St.Anthony Park Real Estate Stats
October 1, 2023
St. Anthony MN Information
Click On Map To Enlarge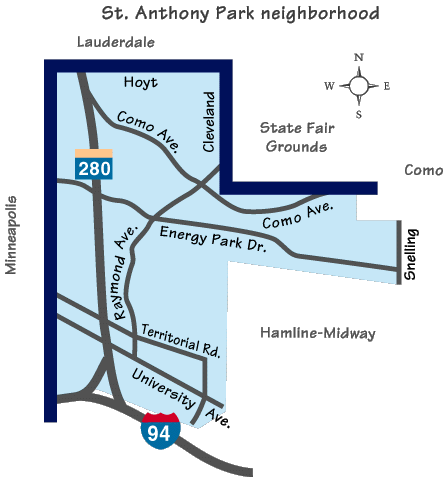 St. Anthony was planned by landscape architect Horace Cleveland as a neighborhood set up between the downtowns of St. Paul and Minneapolis. His vision for the area was to craft a neighborhood with large estates that were complementary to the contours of the area. This design gives the neighborhood winding streets and seemingly odd green spaces.
The St. Anthony neighborhood is actually split into two, North St. Anthony and South St. Anthony, with a warehouse district and the Burlington Northern Railroad corridor acting as a divider. However, South St. Anthony is more of a commercial hub centered around University and Raymond Avenues. The area surrounding University Avenue is thriving because of the retail and residential redevelopment over the years. North St. Anthony is very near to the University of Minnesota's St. Paul campus, which is home to many students and faculty. The Luther Northwestern Theological Seminary also calls the area home on the west end of Como Avenue.
The residents in the area frequent many of the popular local eateries like Hampden Park Co-op, Key's Cafe, Cafe Biaggio, Muffuleta Restaurant and Parkview Cafe. The community is very active with the many parks and trails alongside the banks of the Mississippi River. The neighborhood has a ton of green space. St. Anthony also is home to the St. Anthony Park Branch Library which was opened in 1917, one of three Carnegie libraries opened in St. Paul that year. Each year many residents and people from surrounding areas flock to St. Anthony for their memorable 4th of July celebration.
For schools in the neighborhood, St. Anthony Park and Chelsea Heights are the elementary schools, Murray Junior High is located within the neighborhood limits and most area teens continue onto Como Senior High located in the nearby Como Park.
Saint Anthony MN Homes & Condos
St. Anthony features many great choices for both homes and condos with the neighborhood. There are Queen Anne style homes around the historic bluffs, many of which are featured on the National Register of Historic places. The majority of the houses are the architectural style of bungalows, Craftsman and Midwestern-squares — many of these homes feature beautiful woodwork.
Discover great homes and condos in St. Anthony Saint Paul MN and contact the Realtors at the Barker Hedges Group with any questions you have about the market and their superior agent services.