Summit - University St Paul MN Real Estate
The Summit - University neighborhood is located in the southwestern portion of St. Paul. To the north, the neighborhood is bordered by University Avenue and to the south by Summit Avenue. The western border is Lexington Parkway and the eastern is Marion Avenue and Irvine Avenue. Summit - University is also home to Selby - Dale and Cathedral Hill. The neighborhood has plenty of historic charm, making the real estate in Summit - University worth looking into.
Summit-University St Paul MN Information
Click On Map To Enlarge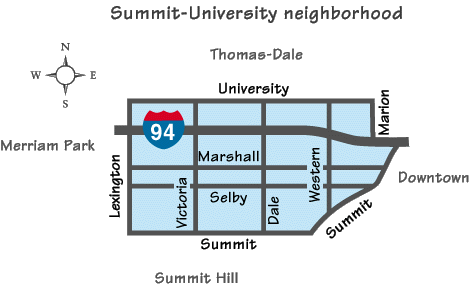 Summit - University is also home to historic non-residential architecture. In 1916, the Temple of Aaron was constructed — it features Beaux style architecture. Built in 1924, St. Luke's Catholic Church remains a picturesque sight and features Romanesque Revival architecture.
The neighborhood saw its greatest development in the late 19th century, where it went from a farming community to a residential area. Streetcar lines started to run through the neighborhood which made commuting much easier for middle class citizens. Archbishop John Ireland and James J. Hill were some of the most influential figures in getting middle class workers to settle in the area.
Because the neighborhood was mostly a working-class settlement, the area has many brick apartment buildings and rowhouses. The famous author F. Scott Fitzgerald called one of these rowhouses home when he was writing This Side of Paradise. Present day, many of these original rentals have been transformed into large, trendy condos.
In the 1990's the Summit - University neighborhood saw a revitalization. Many of the older businesses and homes in the area have been been modernized or refurbished since then. The nearby Selby Avenue has turned into a destination spot for the area's shoppers and diners. Dale Street and Selby Avenue are the major cross-streets in the entire district.

This area is extremely pedestrian friendly and offers a host of both casual and high-end dining. Causal spots for dinner and drinks include: Happy Gnome, Costello's, Fabulous Ferns, and the Muddy Pig. Fine dining options include: The Vintage, La Grolla, Moscow on the Hill, and W.A. Frosts. In the summertime, these many of these spots are known for their outdoor dining.
Summit-University St Paul MN Town Homes & Condominiums For Sale
Originally settled as a farming community in the year 1850, Summit - University has a rich history — in fact, one of the original farmhouses is still intact today. Along the University Avenue strip, some of original architecture along the roadway has been demolished with modern urban development. However, east of Dale Street in the Cathedral Hill neighborhood, many of the original homes still stand. The Summit - University neighborhood features the architectural styles of Queen Anne, Colonial Revival, Federal, Shingle, and Italianate.
Discover great town homes & condominiums in Summit-University Saint Paul MN and contact the Realtors at the Barker Hedges Group with any questions you have about the market and their superior agent services.