West Side St Paul MN Real Estate
The neighborhood of West Side in St. Paul offers real estate in the area south of downtown, in close proximity to the Smith Avenue High Bridge and the Mississippi River. The West Side name is actually a bit confusing, considering the neighborhood is actually situated in the southeastern area of St. Paul. But it's located on the west bank of the Mississippi River.


The neighborhood is bordered to the north, east and west by the picturesque Mississippi River; to the south it is bordered by Annapolis Street. The neighborhood is certainly worth looking into.
West Side Real Estate Stats
December 5, 2023
West Side St Paul MN Information
Click On Map To Enlarge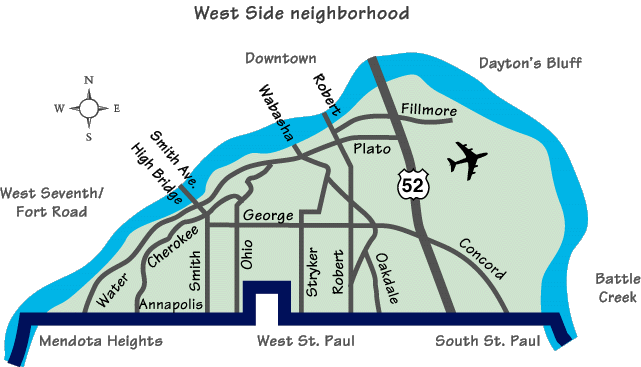 There are many terrific real estate listings for both homes and condos in the West Side neighborhood. The area offers breathtaking views of downtown St Paul. Robert Street and Caesar Chavez Street are the two busiest commercial areas in the neighborhood.
The West Side is filled with historical significance. In the late 19th century, the area was home to the Dakota Native American Tribe. The neighborhood was then part of Dakota County, but later became a part of Ramsey County and St. Paul. Just after, German, Irish, French-Canadian immigrants began to settle on the west bank of the Mississippi River. In the 1870s, two breweries opened in the area. The natural caves in the area were perfect cool places for beer storage. The 1960s brought urban renewal construction which demolished the breweries.
The recreation in the neighborhood is top notch. The ethnic restaurants in the West Side area are exceptional, from El Burrito Mercado and Boca Chica, which have some of the best Mexican food in the state. The yearly Cinco de Mayo party is something people in the Twin Cities put on their calendar every year. In the summer, the Parque Castillo hosts family nights on a weekly basis. The National Register of Historic Places has the neighborhood's River View Branch Library on their list. One of the best places to check out the Mississippi River is at the neighborhood's Cherokee Park.
The West Side has three public elementary schools: Roosevelt Elementary, River View West Side and Cherokee Heights Elementary. Humboldt Junior/Senior High are within the limits of the neighborhood.
West Side St Paul MN Homes & Condos
Over half of the residential properties in the West Side neighborhood were constructed before the year 1940. Most of the homes in the neighborhood are bungalows and Midwestern-squares. Around Smith Avenue and Cherokee Park there are large Tudor and Colonial homes.
Discover great homes & condos in West Side Saint Paul MN and contact the Realtors at the Barker Hedges Group with any questions you have about the market and their superior agent services.